Cryoderm
Available as a Gel, Spray or Roll-On
Available as a Gel, Spray or Roll-On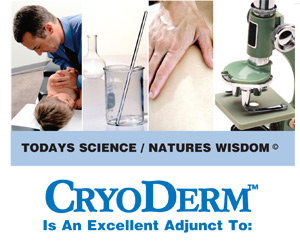 Chiropractic Care
Physical Therapy
Podiatric Care
Massage Therapy
Rehabilitation Exercises
Pre & Post Sporting Events & Workouts
All Occasions Where Soft Tissue Injuries, Joint Pain, Neurological Pain & Neuropathy Are Present
Enhance Ultrasound By Mixing CryoDerm™ Liquid Gel with any FDA Approved Coupling Gel or Lotion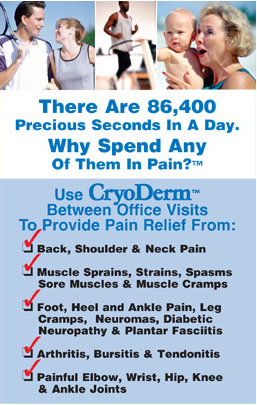 *ARNICA: Research studies at The University Of California San Francisco Medical Center showed topical applications of Arnica to be effective in reducing bruising, swelling, edema, hematoma and contusions.
*BOSWELLA: Has Anti-inflammatory and Anti-Arthritic actions in acute and chronic models of inflammation. Boswella reduces swelling, increasing mobility, thereby effectively reducing pain.
*EUCALYPTUS: Is a Pain Reliever with warming properties that is also anti-bacterial in nature.
*ILEX: Reduces pain, swelling and loosens stiff joints.
*MENTHOL: Is used clinically as an anti-inflammatory and Pain Reliever. It causes a cold sensation on the skin, by activating peripheral cold receptors.
*MSM: Is a naturally occurring, essential nutrient found in healthy tissue and joints. Studies at The University of Oregon Medical School reported that: MSM has a wide range of pharmacologic actions including topical membrane penetration, anti-inflammation and local analgesia." Applied topically MSM creates a tingling sensation.
*PEPPERMINT OIL: Has anesthetic properties as well as being a vascular and lymphatic system stimulant. Peppermint creates a burning-cold sensation.
*PURIFIED WATER: Has been processed by reverse osmosis to insure that it is chemical free.
*SD ALCOHOL 39-C: All Natural, Distilled Grain Alcohol. For External Use Only.
See bottle label for complete uses, warnings and directions.
*These Statements Have Not Been Evaluated By The FDA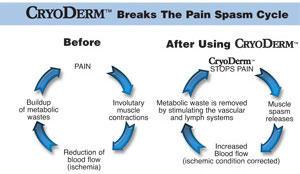 Additional information
| | |
| --- | --- |
| Weight | 2 lbs |
| Dimensions | 8 × 8 × 8 in |
Only logged in customers who have purchased this product may leave a review.